18 U.S.C. 2257
Record-Keeping
Compliance Statement
All persons that appear in any visual depiction contained on this site were eighteen years of age or older at the time said depictions were created. All sexually explicit images on this site are being published pursuant to 18 USC 2257.
CockSureMen.com is a single, ongoing, literary journal which was first published on November 7, 2008.
Please direct questions pertaining to content on this Website to the Custodian of Records: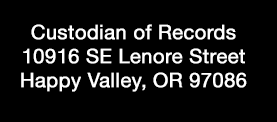 Proud Member of the Free Speech Coalition since 2010.